Certificate for Apartment Maintenance Technician (CAMT) Course
---
Monday, April 3, 2023
at
8:00 AM (CDT)
to Friday, April 7, 2023 at 5:00 PM (CDT)
Category: Credential Courses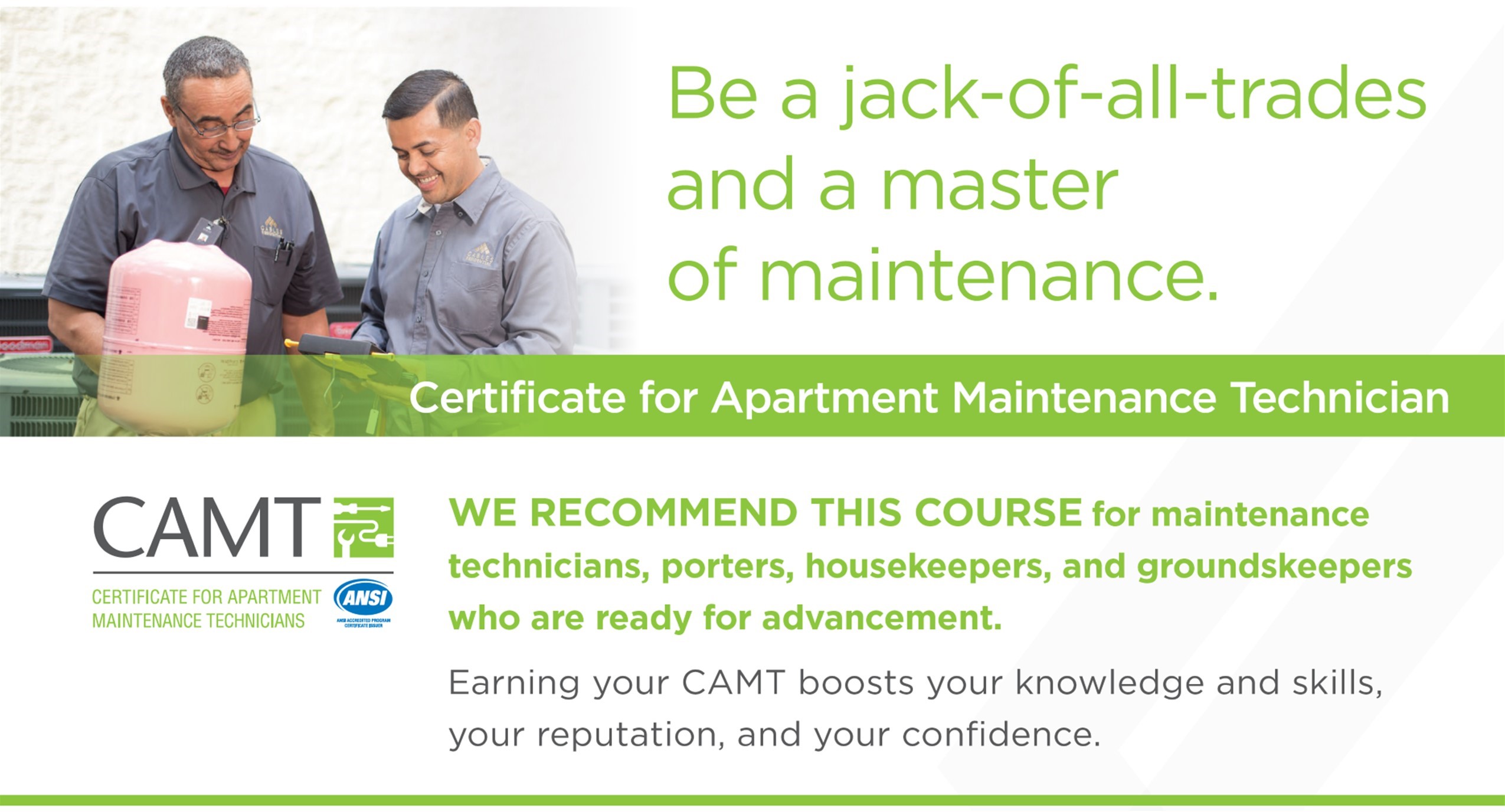 Earning your Certificate for Apartment Maintenance Technician (CAMT) validates your knowledge, enhances your reputation and credibility, boosts your confidence and earns you respect.
Maintenance expenses are the single largest controllable element in any operating budget. This course acts as an introduction for new maintenance professionals or as a refresher for the veteran employee, teaching what it takes to run a cost-effective maintenance program.
Still want to know more about the CAMT Course. Check out this video from the National Apartment Association.
Certified Apartment Maintenance Technician Students Must Attende ALL Class Dates
SCHEDULE:
           Monday, April  3
           Air Conditioning/Heating Maintenance & Repair       
           Tuesday, April 4
           Appliance Maintenance & Repair
           Wednesday, April 5
           Electrical Maintenance & Repair
           Thursday, April 6
           Plumbing Maintenance & Repair
           Friday, April 7
           Interior/Exterior Maintenance & Repair 
    Online CAMT soft skills training will include customer service and fair housing.
INSTRUCTOR: ANGEL DAVILA
Angel Davila began working as a porter 10+ years ago after returning from deployment in the USMC & is now the National Maintenance Trainer at Monarch Investment & Management Group; a Colorado based company that operates in 20 states. Not one to limit himself, Angel has earned three credentials (CAM, CAMT, CAPS) and is also an NAAEI Advanced Instructor. He has received numerous awards over the years and in 2019 he was recognized for his excellence and leadership in the apartment housing industry with the National Apartment Association Certificate for Apartment Maintenance Technician (CAMT) of the Year Award.
PRICE
Register by February 28: $699 per member / $899 per non-member
Register March 1-20: $749 per member / $949 per non-member
Register March 21-30: $825 per member / $1,025 per non-member
---
Cancellation Policy for CAMT Course Registration:  Full refunds will be given for cancellations made up until February 28th. Cancellations made March 1st - 20th will receive a 50% refund.  Cancellations received after March 20th, and no-shows, will be required to pay in full.  Substitutions may be made for no additional fee.
Cancellation Policy for Sponsorships:  No cancellations will be accepted once your registration has been submitted.
---
By participating in this event I agree and acknowledge that I am undertaking participation in Tulsa Apartment Association (TAA) events and activities as my own free and intentional act and am fully aware that possible physical injury or illness might occur to me as a result of my participation in these events. I give this acknowledgement freely and knowingly and that I am, as result, able to participate in TAA events and I do herby assume responsibility for my own well-being. I agree to hold TAA harmless in the event that I incur any physical or mental injury, including illness, that might be attributed to my participation in the event.

---
SPONSORSHIP OPPORTUNITY!
Sponsor a CAMT class for $150 and get the opportunity to speak and hand out promotional items to students, and receive a shout out on TAA social media.  This is a great way to get in front of apartment community managers and rising stars in the industry.  Click the "Register Now" button to sign-up for a sponsorship.  
---