Certified Apartment Manager (CAM) Course
---
Category: Credential Courses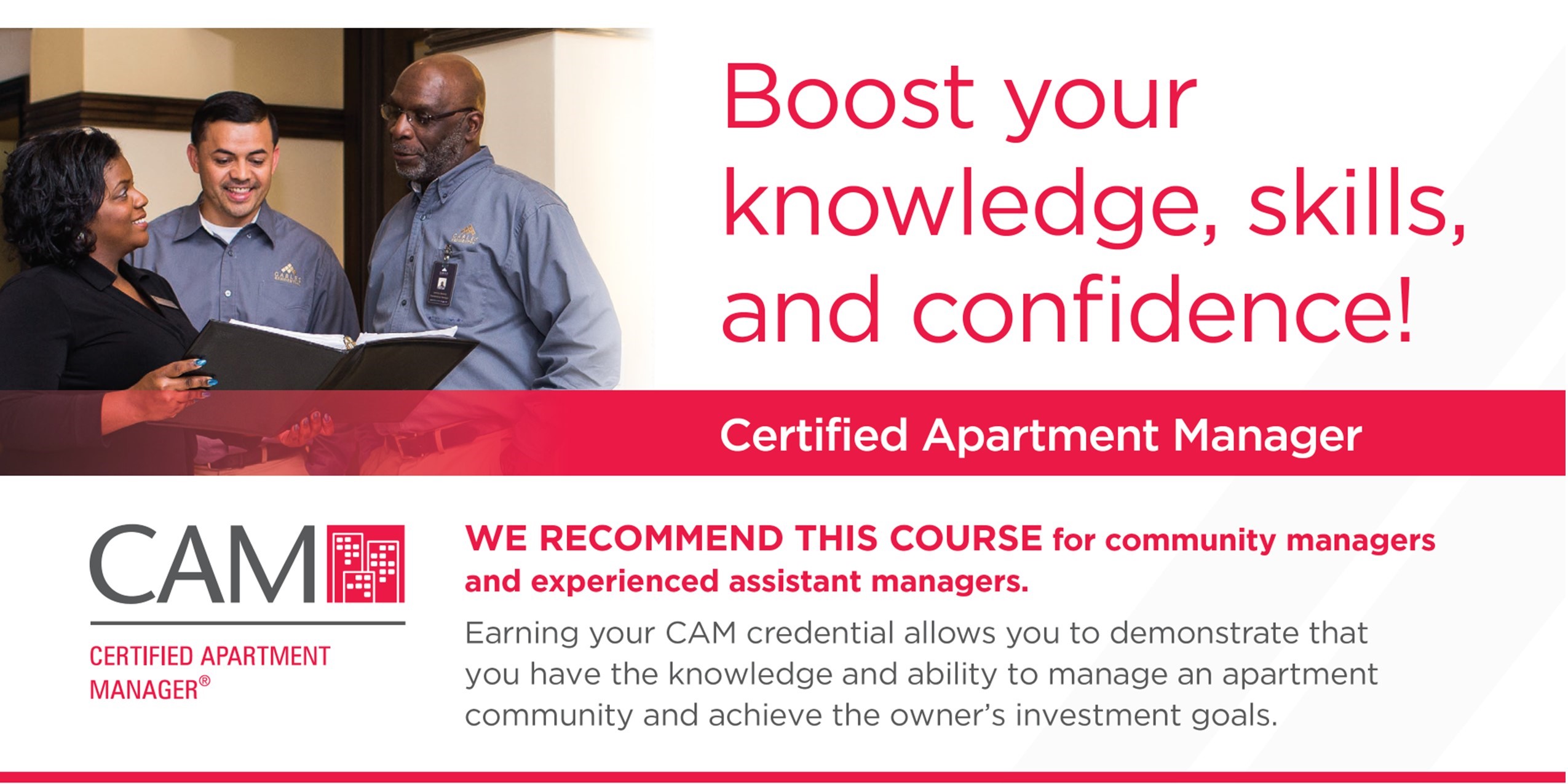 If you are an apartment community Manager, or an experienced Assistant Manager, we recommend this course for you!


Earn your Certified Apartment Manager (CAM) designation and increase your community's Net Operating Income. The National Apartment Association Education Institute developed the CAM program to assist apartment industry professionals in advancing their apartment industry knowledge, and ultimately their career!


Certified Apartment Manager Students Must Attend ALL Class Dates
SCHEDULE:
Friday, January 13
Industry Essentials & Resident Experience
Monday, January 16
Marketing & Financial Prep
Wednesday, January 18
Financial Management
Monday, February 20
Property Maintenance
Tuesday, February 21
Legal Responsibilities & Risk Management
Wednesday, February 22
Risk Management & Human Resources
Thursday, February 23
Human Resources & Exam Review
INSTRUCTOR: KATIE RIGSBY
Katie is a Keynote Speaker, Facilitator & Inspiration Specialist. She has over 20 years of experience in the multifamily industry and has successfully managed properties, capital improvements, employees, crisis and finances. Katie is a CAPS, CAM and CALP credential holder & a licensed Louisiana Realtor. Learn more about Katie at www.katierigsby.com.
PRICE
Register by December 31: $875 per member / $1.075 per non-member
Register January 1-10: $925 per member / $1,125 per non-member
Register January 11-12: $1,000 per member / $1,200 per non-member
---
Cancellation Policy for CAM Course Registration: Full refunds will be given for cancellations made up until December 31st. Cancellations made January 1st - 10th will receive a 50% refund. Cancellations received after January 10th, and no-shows, will be required to pay in full. Substitutions may be made for no additional fee.
Cancellation Policy for Sponsorships: No cancellations will be accepted once your registration has been submitted.


---
By participating in this event I agree and acknowledge that I am undertaking participation in Tulsa Apartment Association (TAA) events and activities as my own free and intentional act and am fully aware that possible physical injury or illness might occur to me as a result of my participation in these events. I give this acknowledgement freely and knowingly and that I am, as result, able to participate in TAA events and I do herby assume responsibility for my own well-being. I agree to hold TAA harmless in the event that I incur any physical or mental injury, including illness, that might be attributed to my participation in the event.
---
SPONSORSHIP OPPORTUNITY!
Sponsor a CAM class for $150 and get the opportunity to speak and hand out promotional items to students, and receive a shout out on TAA social media. This is a great way to get in front of apartment community managers and rising stars in the industry. Click the "Register Now" button to sign-up for a sponsorship.
---