Leasing Seminar: Mind Your P's and Q's
Getting Back to the Basics of Leasing in a Competitive Market
---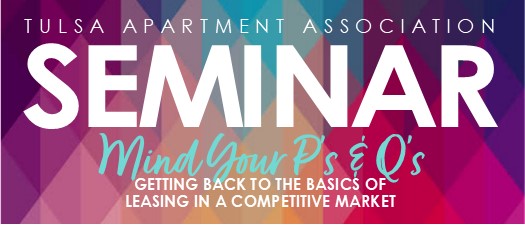 In this seminar, you will learn how asking the right questions, building rapport, and determining what your "secret sauce" is will show the industry where self-showing lock boxes fall short. We will discover how to use technology to our advantage to enhance the human experience and begin asking the right Q's so we can shift our focus to the most important P.
Whether you're a "Rookie" leasing professional, a seasoned "Leasing Legend", or you manage anyone on the sales floor, you won't want to miss this unique approach on a basic principle of apartment leasing.
Key Takeaways:
5 P's of Marketing and How to ask the right questions
Top 5 Tech Tools of 2022: "Will Robots Take My Job"? No, but they CAN help you do it.
Customer Service isn't about you, it's about them!
Don't forget the "Please and Thank You's" too! Remembering why manners matter.
---
Presented by Alexis Melton, CAM, CALP, and NAAEI Faculty
A millennial multifamily professional, Alexis Melton earned her stripes early on. After managing student housing as a college student, she found her niche for property management right from the start. Since 2013, Alexis has spent time growing as a Leasing Professional, an award-winning Assistant Manager, Community Manager, and Training specialist. Alexis has obtained the Certified Apartment Manager and the Certified Apartment Leasing Professional credentials from the National Apartment Association where she is currently a member in good standing and serves on the faculty as an Advanced Facilitator. She has received organizational recognition as a Credential Holder of the Year and Fostering Community. Currently, Alexis is the HR Manager of Jamison Management Company where she oversees hiring, onboarding, training, and career development across a national brand that manages over 2,500 doors rental homes.
---
By participating in this event I agree and acknowledge that I am undertaking participation in Tulsa Apartment Association (TAA) events and activities as my own free and intentional act and am fully aware that possible physical injury or illness might occur to me as a result of my participation in these events. I give this acknowledgement freely and knowingly and that I am, as result, able to participate in TAA events and I do herby assume responsibility for my own well-being. I agree to hold TAA harmless in the event that I incur any physical or mental injury, including illness, that might be attributed to my participation in the event.
If you are feeling COVID-19 symptoms, or have recently been in close contact with someone who has tested positive for COVID-19, please do not attend. Learn more about symptoms, definition of close contact and when to quarantine at www.cdc.gov.